Do you ever feel like everyone in SEO speaks a foreign language?
Don't worry, you're not alone.
In fact, I'm pretty sure most of us have been there at one point or another.
With all of the SEO acronyms and abbreviations flying around, it's no wonder!
But don't let that intimidate you.
In this post, Simba Academy is going to break down some of the most common SEO acronyms so that you can sound like a pro too.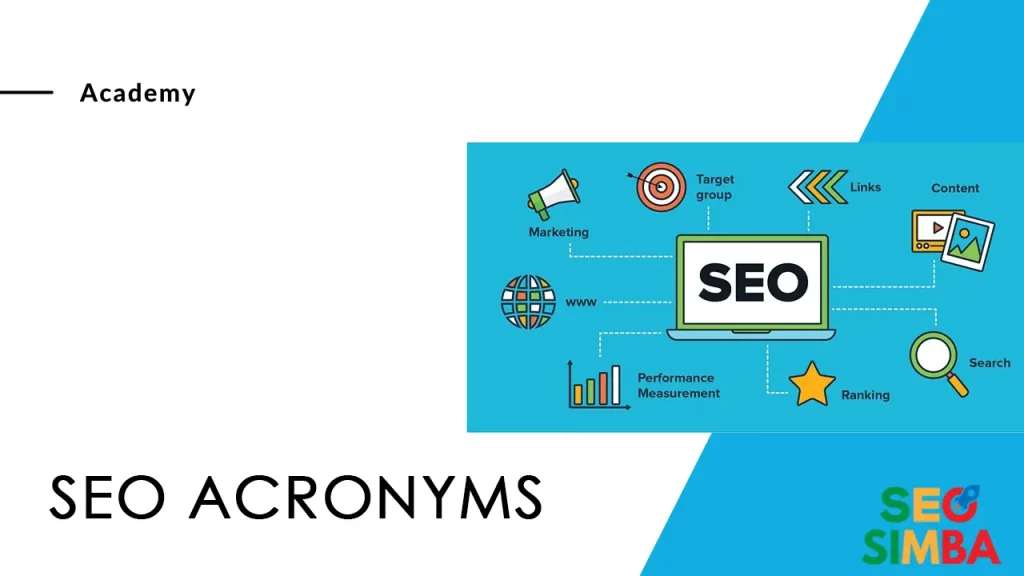 Trust me, once you know what these mean, things will start to make a lot more sense and be able to understand SEO conversations amongst the pros.
Ready?
Let's dive in!
SEO Acronyms from A – Z
| | |
| --- | --- |
| 301 | Permanent Redirect |
| 302 | Temporary Redirect |
| 304 | File Not Modified |
| 401 | Unauthorized Error |
| 403 | Forbidden Error |
| 404 | Web Page Not Found |
| 410 | Web Page Permanently Not Available |
| 503 | The Server Is Unavailable |
| 522 | Connection Timed Out |
| ABO | Always Be Optimizing |
| AJAX | Asynchronous Javascript And Xml |
| ALT | The Alternative Text Attribute Tag |
| AMP | Accelerated Mobile Page |
| AOV | Average Order Value |
| API | Application Program Interface |
| AR | Augmented Reality |
| AS | Article Submission |
| ASP | Application Service Provider |
| ATD | Agency Trading Desk |
| AV | Altavista |
| B2B | Business To Business |
| B2C | Business To Consumer |
| BERT | Bidirectional Encoder Representations from Transformers |
| BH | Black Hat SEO |
| BHW | Blackhatworld |
| BI | Bing Index |
| BL | Backlink |
| BR | Bounce Rate |
| CAC | Customer Acquisition Cost |
| CAPTCHA | Completely Automated Public Turing Test To Tell Computers And Humans Apart |
| ccTLD | Country Code Top-level Domain |
| CF | Citation Flow |
| CGI | Common Gateway Interface |
| CLV | Customer Lifetime Value |
| CMS | Content Management System |
| COA | Cost Of Acquisition |
| CPA | Cost Per Acquisition |
| CPC | Cost Per Click |
| CPI | Cost Per Impression |
| CPL | Cost Per Lead |
| CPM | Cost Per Mile (Thousand Impressions) |
| CPO | Cost Per Order |
| CPV | Cost Per View |
| CR | Conversion Rate |
| CRC | Customer Retention Cost |
| CRM | Customer Relationship Management |
| CRO | Conversion Rate Optimization |
| CSE | Comparison Shopping Engine/Custom Search Engine |
| CSS | Cascading Style Sheets |
| CSV | (Export Option In Keysearch) – Comma-separated Values (Compatible With Excel And Mac Numbers). |
| CTA | Call To Action |
| CTR | Click-through Rate |
| CX | Customer Experience |
| DA | Domain Authority |
| DDOS | Distributed Denial Of Service |
| DFO | Data Feed Optimization |
| DKI | Dynamic Keyword Insertion |
| DLP | Directory Listings Page |
| DLR | Deep Link Ratio |
| DMCA | Digital Millennium Copyright Act |
| DMOZ | Directory – Mozilla |
| DMP | Data Management Platform |
| DNS | Domain Name Server |
| DR | Domain Rating |
| DR | Direct Response |
| DRPs | Directory Submission |
| DS | Directory Results Pages |
| DSP | Demand-Side Platform |
| DSRP | Directory Search Results Page |
| EAT | Expertise, Authoritativeness, Trustworthiness. |
| ECPC | Enhanced Cost Per Click |
| EMD | Exact Match Domain |
| EPC | Earnings Per Click |
| EPM | Earnings Per Mille (Thousand) |
| ERD | Education Referring Domains |
| ESP | Email Service Provider |
| FBML | Facebook Markup Language |
| FCP | Frequently Cached Page |
| FFA | Free For All Pages |
| FTP | File Transfer Protocol |
| GA | Google Analytics |
| GAP | Google Advertising Professional |
| GAS | Guaranteed Article Submission |
| GDS | Guaranteed Directory Submission |
| GI | Google Index |
| GIS | Google Image Search |
| GIY | Google It Yourself |
| GMB | Google My Business |
| GRD | Government Referring Domains |
| GSC | Google Search Console |
| GTM | Google Tag Manager |
| GUI | Graphical User Interface |
| GWT | Google Webmaster Tools |
| GYM | Google Yahoo Msn |
| H1 | Level 1 Heading Markup |
| H2 | Level 2 Heading Markup |
| H3 | Level 3 Heading Markup |
| H4 | Level 4 Heading Markup |
| H5 | Level 5 Heading Markup |
| Href | Hypertext Reference |
| HTML | Hypertext Markup Language |
| HTTP | Hypertext Transfer Protocol |
| HTTPS | Hypertext Transfer Protocol Secure |
| IBL | In Bound Links |
| IDF | Inverse Document Frequency |
| IFTTT | If This Then That |
| IM | Internet Marketing |
| IP | Internet Protocol (Address) |
| ISP | Internet Service Provider |
| KD | Keyword Difficulty |
| KD | Keyword Density |
| KDA | Keyword Density Analyzer |
| KEI | Keyword Effectiveness Index |
| KPI | Key Performance Indicator |
| LB | Link Building |
| LPO | Landing Page Optimization |
| LSA | Latent Semantic Analysis |
| LSEO | Local Search Engine Optimization |
| LSI | Latent Semantic Indexing |
| LTKW | Long Tail Keyword |
| LTV | Lifetime Value |
| MC | Main Content |
| MC | Mixed Content |
| MCP | Moderately Cached Page |
| MFA | Made For Advertising |
| MQL | Marketing Qualified Lead |
| MTO | Meta Tags Optimization |
| MVT | Multivariate Testing |
| NAP | Name, Address, Phone Number |
| NSEO | Negative Seo |
| OBL | Outbound Link |
| ODP | Open Directory Project |
| OG | Facebook Open Graph |
| ORM | Online Reputation Management |
| OS | Operating System |
| OS | Open Source |
| OSE | Open Site Explorer |
| OWBL | One Way Back Link |
| P4P | Paid For Placement |
| PA | Page Authority |
| PBN | Private Blog Network |
| PDF | Portable Document Format |
| PFI | Pay For Inclusion |
| PFL | Paid For Listings |
| PFP | Pay For Performance |
| PHP | Hypertext Preprocessor |
| PPC | Pay Per Click |
| PPCSE | Pay Per Click Search Engine |
| PPL | Pay Per Lead |
| PPR | Pay Per Rank |
| PPS | Pay Per Sale |
| PR | Press Release |
| PR | Page Rank |
| PV | Page Views |
| PWA | Progressive Web App |
| QA | Quality Assurance |
| QDD | Query Deserves Diversity |
| QDF | Query Deserves Freshness |
| QS | Quality Score |
| RD | Referring Domains |
| RFI | Request For Information |
| RFP | Request For Proposal |
| RI | Regular Index |
| RM | Reputation Management |
| ROI | Return On Investment |
| RON | Run Of Network |
| ROR | Ruby On Rails |
| ROS | Run Of Site |
| RPM | Revenue Per Mile (Thousands). |
| RSS | Really Simple Syndication Or Rich Site Summary |
| RT | Re-tweet |
| RTD | Real-time Data |
| RTL | Regional Long Tail |
| SaaS | Software As A Service |
| SB | Social Bookmarking |
| SD | Semantic Distance |
| SE | Search Engine |
| SEM | Search Engine Marketing |
| SEO | Search Engine Optimization |
| SEP | Search Engine Positioning |
| SER | Search Engine Ranking |
| SERM | Search Engine Results Management |
| SERP | Search Engine Results Page |
| SES | Search Engine Strategies |
| SEW | Search Engine Watch |
| SI | Supplemental Index |
| SLA | Service Level Agreement |
| SMB | Small And Medium Businesses |
| SMEs | Small And Medium-sized Enterprises |
| SMM | Social Media Marketing |
| SMO | Social Media Optimization |
| SMP | Social Media Platform |
| SNS | Social Networking Service |
| SOV | Share Of Voice |
| SOW | Statement Of Works |
| SQL | Sales Qualified Lead |
| SRM | Search Reputation Management |
| SSI | Server Side Includes |
| SSL | Secure Sockets Layer |
| SSP | Supply-side Platform |
| STW | Search The Web |
| SVD | Singular Value Decomposition |
| SWL | Sitewide Link |
| SWOT | Strength, Weaknesses, Opportunity, Threats |
| TF | Trust Flow |
| TF-IDF | Term Frequency-inverse Document Frequency |
| TLD | Top-level Domain |
| TLP | Top Level Page |
| TOS | Terms Of Service |
| TR | Trust Rank |
| TTF | Topical Trust Flow |
| UCD | User-centric Design |
| UEO | User Experience Optimization |
| UGC | User-generated Content |
| UI | User Interface |
| UI | User Intent |
| UR | Url Ranking |
| URL | Uniform Resource Locator |
| USP | Unique Selling Point |
| USP | Unique Selling Proposition |
| UTM | Urchin Tracking Module |
| UV | Unique Visitor |
| UX | User Experience |
| VA | Virtual Assistant |
| VIPS | Visual-block Page Segmentation |
| VM | Viral Marketing |
| VOD | Video on demand |
| W3C | World Wide Web Consortium |
| WDF | Within Domain Frequency |
| WH | Whitehat |
| WMT | Webmaster Tools |
| WMW | Webmaster World |
| WOMM | Word of mouth marketing |
| WWW | World Wide Web |
| WYSIWYG | What you see is what you get |
| XHTML | Extensible HyperText Markup Language |
| XML | Extensible Markup Language |
| Y! | Yahoo! |
| YMYL | Your Money Or Your Life |
| YOY | Year on year |
| YTD | Year To Date |